20051130
(0) comments
20051129
(0) comments
20051127
(0) comments
20051123
(0) comments
20051119
(0) comments
20051115
(1) comments
20051114
(0) comments
20051113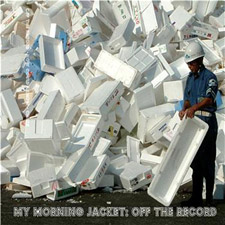 My Morning Jacket
dressed up the Fillmore last weekend, literally bringing us "
Into the Woods
"- an enchanted forest of sound and feeling. It has been a long time since two nights of music had completely taken me over and helped me to see so clearly. If you are uninitiated, going to see My Morning Jacket is like taking a bath in good energy, it is spiritually cleansing and leaves you with a higher level of consciousness than you had before the experience. There was not a person in that room that was unaffected by this music. This band is really firing on all cylinders, after winning the unofficial Best of Bonnaroo set for two years running, they did a great long
in-studio at KCRW in LA
and then moved up the coast for multiple nights in the west coast's capital city for music.
The songs played at the Fillmore from the new album,
Z
, were played impeccably, opening with "
Wordless Chorus
" both nights. "
Off the Record
" and "
Lay Low
" were just huge on both evenings, stretched out and groove inducing. From
It Still Moves
, "
Run Thru
" and "
One Big Holiday
" were exceptional, everyone yelling "Caaaaliffoorrniaaaaa" - still giving me
chills
to think about how great it felt in there. Maybe it was the comfort that the Fillmore brings, or not having to load in on Saturday and getting to chill all day in SF, but the amazing vibe from Friday was turned up a little notch for Saturday's throwdown. After what seemed like a 18 song first set, the hard rocking was interspersed on both evenings by beautiful acoustic songs like "
Bermuda Highway
," "
Golden
" and on Saturday, "
The Bear
" before kicking it up another few notches for the requisite "
Mahgeetah
" (which is not a complaint). I would go see MMJ any night of the week, because as Deb says, "There are no bad MMJ songs, no need to press." It's true, there's always a groove to catch, a building rhythm section, the intertwined guitars, the tight rhythm section of Tommy and Patrick dialed in like the aorta of the band, vertically placed between the axes of Carl and Jim, the texture of Bo's keyboards, and then
The Voice
of
Jim James
that brings it all together in the most epic of ways. J said, "It's been quite sometime since i have felt that type of anticipation before a show and the show lived up to and surpassed it."
Before it was all said and done, the song that closed the last of the encores on the second night, was an absolutely stellar rendition of the song that has most affected me mentally on the Z album, "
Anytime
." Read the "
Anytime
" Lyrics:
Is This Climbing Up To The Moon?
Or Did It Bail Out Too Soon?
I Hope We Didn't Wait Too Long.
All That I Wanted To Say
Words Only Got In The Way.
But Then I Found Another Way To Communicate.

Is This "Climbing Up To The Moon?"
Or Did It Fade Out Too Soon?
I Know We Didn't, I Know We Didn't Wait Too Long
Cause Anytime's A Good Time To Move On.

Things I Could Say To Myself
I Could Never Say To Anyone Else.
But What Madonna Said Really Helped
She Said: "Boy - You Better Learn To Express Yourself!"
I Know We Didn't, I Know We Didn't Wait Too Long.
Cause Anytime's A Good Time To Move On.
(0) comments
20051110
(0) comments
20051109
(0) comments
20051103
(0) comments
20051101
(0) comments